Weddings – Family Reunions – Corporate Events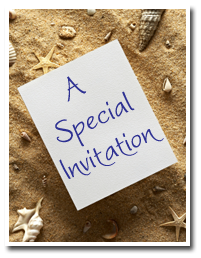 Are you looking for the ideal place to hold an important event? Have you always dreamed of the PERFECT BEACH WEDDING? Are you planning a Family Reunion and need a fun and relaxing place to meet up with all your relatives? Do you need a great get-a-way idea for your upcoming Corporate Event? We have just the place for you!
If you need to host an event with us we're happy to reserve THE CASTLE just for you! All four suites for you can comfortably accomodate up to 22 people under the same roof. In addition we have several other units on the same street to house additional people. See The Cottage and Andre Mar – just click on the buttons to the right.
Weddings – THE CASTLE has 6 bedrooms and 6 bathrooms and is a beautiful place to get married. You can get married on the beach (just a few short steps away). The private beach walk makes a wonderful aisle for the bride to walk down.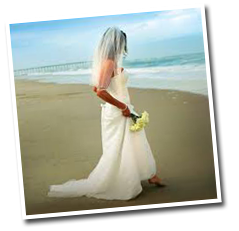 We also have a privacy curtain that goes across the driveway to "Enclose" and bring privacy to your event. We have enough room for tables and chairs to seat up to 60 people for Dinner Al Fresco. Additional room to set up buffet, bar, band and dance floor is also available! We have installed low voltage lighting for evening entertaining.
We have additional parking for large parties just 1/2 block away at a charge of $5 per vehicle. Valet service can be set up upon your request.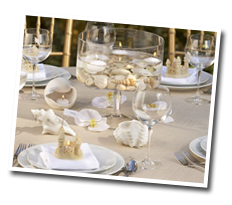 We are more than happy to help you plan and set up your event if you like. We have established relationships with local florist, caterers, rental services, photographers, bands and DJ's.
Your fabulous party will take place on the exterior front, down the side garden paths and around the new pool/spa area with multiple water features, lush landscaping and beautiful lighting.
Please contact Rhonda to discuss the rates and details of your upcoming event! (888) 540-7713 lush landscaping and beautiful lighting.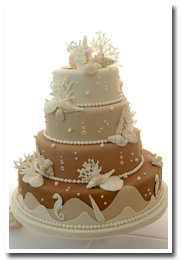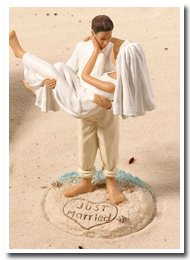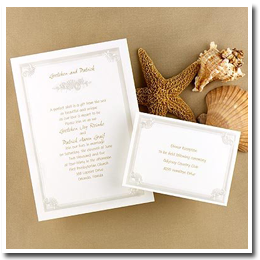 Book your Beach Vacation Today! – 239-691-2939 – rhondawyatt@gmail.com